This page is for news about Dragon Ball video games and only TheDarkPrinceReturns! can edit it, any other edits will be undone.--

Raginggohan

contribs 22:17, February 11, 2011 (UTC)
Dragon Ball: Zenkai Battle Royale
Dragon Ball: Zenkai Battle Royale is an upcoming game which will be released for the arcades. So far the characters that are confirmed are:
Stay tuned for more characters to be announced in the near future. See below for the trailer and gameplay videos.
Dragon Ball Kai: Ultimate Butoden
Dragon Ball Kai: Ultimate Butoden was released for the Nintendo DS on February 3rd 2011. The game brings back many fan favourites such as Goku and Vegeta, as well as many others. The story itself starts from the Saiyan Saga and extends upto the Majin Buu Saga. See below for the trailer.
Dragon Ball: Raging Blast 2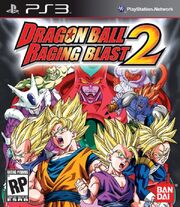 Dragon Ball: Raging Blast 2 is the latest game in the Raging Blast series. It was released in November 2010. The game itself brings back many fan favorites from previous games as well as adding 6 new new characters that were never playable before in a DBZ game. They are Hatchiyack, Tarble, Android 14, Android 15, Neiz and Doore. The game also features a remake of the OVA Plan to Eradicate the Saiyans, which has been renamed Plan to Eradicate the Super Saiyans. A new feature called Raging Soul is added in the game. It adds a new element to the fighting system as once a player activates Raging Soul, they can chain together lots of different combos that they cannot do normally and also do a lot of damage at the same time. See below for all characters Special Attacks.