Hi, this page is for your thoughts and what did you like about the Dragon Ball GT movie.

Please put your name like this under this section:
For Example Raging Gohan
Edit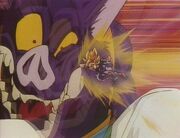 And under that put what you liked and your thoughts about the movie like this:
That's it.
Happy editing!

Raginggohan

contribs
Supreme Gogeta
Edit
I liked how it shows two new warriors (Goku J.R and Vegeta J.R) to pretect the earth and the birth of new Super Saiyans!